Monthly Archives:
May 2011
I was back on the East Coast this past weekend, went into downtown Philly and decided to document "the cheesesteak." More pics to come from the weekend, but this is a good "taste" of the city to start you off.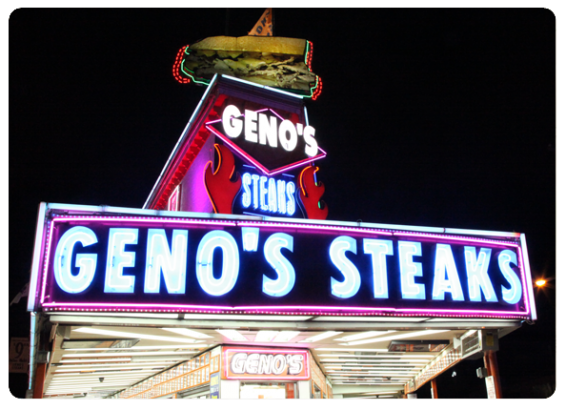 It's been 2 weeks since I ran my first appearance at the Boston Marathon and after sharing my experience to many and many more to inquire, I thought I should write this all down and capture it while it's all soo very fresh and I am still living the after-effects of such a mighty race. I will warn you, there's a lot of words, so feel free to breeze through to bullets that may interest you, as it goes in chronological order. I clearly have no bounds with story-telling!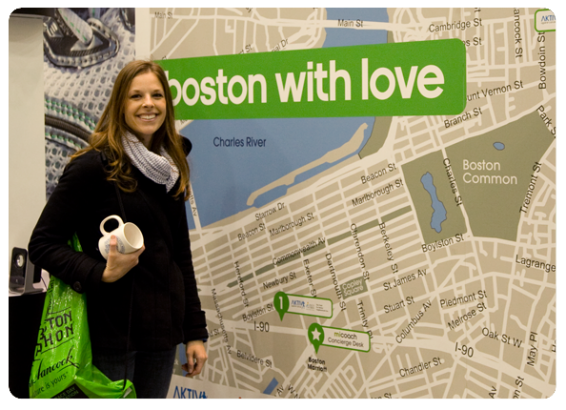 I figure those who want the full story can read all about it here. I go into detail with the training/injury stuff, for those that have inquired about how I got injured, how I trained while injured, how and when did I qualify and what were my times. And those who don't really care about all that crazy and boring stuff, but are curious about the weekend/race, you can scroll down to where it sounds interesting. Most already know I finished and have heard some parts and pieces of the training, the race or the aftermath. The full story is here! Maybe someday generations to follow will find this and say, "that was a crazy great, great, great grandmother I had." By that time, who knows what running of the Boston Marathon it will be. Monday, April 18th of 2011 was the 115th running.
Before I go into the actual specifics of the trip, there is much to mention prior to the actual day of the event, as it certainly rounded the whole experience, as the groundwork can totally play into the experience and outcome of a race. The race that qualified me to run Boston was on October 18th, 2010, here in Kansas City, MO (3:17:49). I ran faster than my first marathon, (3:29:19) which was two years prior in Kansas City. Qualifying time for my age of 27/28 was 3:40 and I say "was," as the qualifying times have changed for 2012, because it was the first year ever that registration had filled up in a record of 8 hours. The year prior it filled up in a month. Needless to say, many of those who qualified or were looking to qualify in an upcoming race, weren't even given the chance if they waited past that 8-hour mark. I learned after my first marathon that I qualified and missed the cut-off date, to just sign up the first date registration opened. I'm glad I was on it.
It was during the 10th mile on October 18th, 2010, of the KC marathon that started the roller coaster of events to come. Something popped in my foot and miraculously I muscled through the remaining 16.2 more miles. Let's just say that moment lead to a very painful foot and 2.5 months of taking off completely from running. When it didn't feel any better with all that rest, I finally went to a podiatrist. This is where I start to put things in bullet point. Yikes, here we go…
• Not a stress fracture, but attributed it to needing an alteration in my "body mechanics." Solution=orthotics  (I feel the need to note; found a podiatrist who GETS IT…he's a marathoner, triathlete, half iron-manner, etc. Dr. John Riley=good stuff).
• I get referred to Sports Medicine Center Metro Run & Walk store to get me some orthotics.
• Caleb, the manager of the store, makes my orthotics and loops me in with a group of very talented, speedy, friendly runners.
• Slowly but surely I break in my orthotics, foot starts to slowly feel better and better, build up my mileage week by week, better my fitness/endurance level, and train with both new and old friends.
• A few weeks go by and I start feeling pain in my back right hip so I go get my orthotics adjusted.
• After an 18 miler run, start feeling pain in my right knee and hip flexor.
• Start backing off from the longer runs and do just the shorter runs, pain still there and getting more significant.
• 3 weeks before the race, pain in the knee is unbearable, switch to complete cross training. Swimming, lifting, core training, etc. No bike, no elliptical, as this stresses the knee. Starting to freak out a bit.
• I go and see Dr. Luke Stanker, Chirpractor who specializes in Active Tension release technique. Let's just say this is not for everyone, but man, was it for me. Basically he finds pressure points in your muscles and applies direct, intense pressure while he adjusts and stretches. I walked out of there feeling AHHMAZING and eventually the good kind of sore kicks in!
• 2 weeks to go, try to run=not good, continue to cross train, go back to Dr. Stanker and also decide to go see Dr. Patel, a bone and joint doctor, who my running friend, Laurel works with and assists.
• Dr. Patel does an ultrasound on my knee and hip, finds inflammation in both and injects cortisone into my knee.
• 1 week to go, I go to an event, wear high heels and proceed to dance in them (yes, feel free to roll your eyes right now) and painfully regretted every second I danced in those stupid, dumb, no good shoes the next day.
• Start to freak out, as pain in foot is significant. Mid-week before race day, talk to Laurel and she squeezes me in for the last appointment of the week on Friday at 4:30 for another cortisone shot. This one, yes, in the foot, where it ALL began back in October. grrr…
•  It's Friday night, I pack my bags and I fly out to Manchester, NH the next morning at 7 am. I'm Boston bound, not sure what to really expect, but almost positive to expect to not finish and to be feeling pain early on enough to not even make it to the half. I had come to terms with this and I was ok with this outcome.
• Arrive into Manchester, greeted by my parents who flew up for the event and we drove our rental car to our hotel in Natick, MA. (at the 10 mile mark of the marathon and 16 miles outside downtown.)
• We had a nice meal at Legal Seafood in Natick Saturday night and decided to venture into Boston on Sunday to get my packet information at the expo. That cortisone shot felt like I already ran a marathon at this point, as my foot felt worse than when I went in for the shot. Sometimes those shots can have that affect and there was nothing to do at that point, but hope it felt better by race day. The expo was NUTS and half of the stuff was sold out. You could barely walk around with everyone trying to get their packets, jackets and souvenirs.
• We were off to do some "light sight-seeing" via trolley. It was the guide's second day on the job and he was fabulous. I wish I would have taken a video of him and his killer Bawston accent.
• It was just about dinner time, so we linked up with the runners I had met and trained with in KC through Caleb/orthotics. They all work at Sprint (Rick, Eric, Lettie and Jeana) and we carted around in my parent's rental sedan. We looked like a clown car, all piled ontop of eachother, but it was better than standing and waiting 2 hours for the subway. The tour guide told us to head down to the Italian district to carb-load on authentic pasta dishes. Apparently all the experienced or well-read up Boston go-ers were doing the same thing. The lines and waits were 2 hours plus! Starving at this point, we finally ended up settling on a pizza place at 8:30, that we found driving back to their hotel. Pizza pies, lasagna slices, salad and spinach squares were on our plates and in our stomachs to fuel us through the 26.2 miles ahead of us. Never did that before!
•  Race day, April 18th and the Marriott we were staying at had a van that took marathoners to the start in Hopkinton for $10. It left at 8 am while all those staying downtown had to be at the buses at 6 am. This was a huge perk staying up in Natick, as I got more time and sleep in the morning and I got dropped off at the start, where all those that were shipped up from downtown, were dropped off at a high school and brought up 15 minutes before the race. I was up at the start for a good hour and a half before the rush of runners came in, so I was able to use the bathrooms and stand in no lines, I saw the elite women, men and wheelchair races start and heard the main announcements and interviews with some of the high profile athletes.
• I was on the lookout for all those I knew were running (2 High School friends, 3 KC friends and 1 Hallmark friend) and figured it would be a long-shot to link up with any of them once the crowds of people were dropped off. Scott Smith, the other only known Hallmarker who had qualified, was to start in the corral ahead of me. We had been in touch via text to link up, but he was at the hs and it wasn't till a few texts back and forth, that we realized we were at different places. He was checking a bag, including his phone so we hoped for the best to spot each other. It was soon time to start, so I got in my corral (8, wave 1) and stood on the edge to see if I could spot any of my friends through the thick crowd. Amazingly enough, I spot Steph, who I haven't seen since HS, walk by! I yell out to her and we scream like we were back in high school. At the very moment I had yelled out her name, Scott walks by and recognizes my voice. He comes over we both freak out a bit at the odds and they both crawl under the rope and into my corral. We all stretch, introduce, and chat with excitement and nerves. Steph eventually moves up one more corral, Scott stays with me (even though he could move up too) and the fun begins.
• The slow shuffle past the start begins and immediately guys start shooting off the sides to pee. I only saw one woman along the side who was squatting and it just looked wrong. There was a weird quietness through the air, while Scott and I chatted it up. We eventually noted this to each other and realized we were the only ones talking it up. I guess nobody else was lucky enough to find a familiar face or friend like we had. A gorilla-costumed man runs by and some other crazy-dressed people. So many people around us were wearing their country flags and names on their jerseys.
• So far, so good. No tweaks in the first 5 miles. But I wasn't holding my breath, for there was still many miles to go and I hadn't run in 3 weeks. Scott and I were averaging a decent pace, not too fast and not too slow. Anywhere between a 7:20-7:50 pace. It felt a lot more relaxed and slower than I normally go out in a race, but I was ok with that. It was around mile 7 that I felt the first tweak in the outside of my right knee. I honestly thought this was the beginning of the end of the race. I told Scott to keep on going and I would try to work it out. I slowed up a bit and I kept trying to push out the negative thoughts and tried not to focus on it too much. The pain had eventually passed and I worked my way back up to Scott. It was easy to spot him as he had the Hallmark corporate challenge shirt on. A couple people even shouted out, "Yeah, Hallmark," a few times which we got a little excited about. We even spotted a few KC race shirts and shouted out to them and said hello!
• It was pretty incredible to be around so many runners and hearing everyone's breathing and the pounding of their feet on the road. On, up and over the hills, the runners moved like one giant wave of colors. There were people spectating everywhere along the course. Little kids with orange slices, licorice, jelly beans, sponges, water and their hands for a high-five stuck out. The smile on their face when you acknowledged them made me smile. Some areas had more spectators than others, but the areas that were especially populated were the college towns of Wellesley and the University of Boston. Wellesley is an all girl's college and you could hear the cheering from a quarter of a mile away. It is known that the girls will give you a kiss when you run by and sure enough, men were running over to the side for their kiss. I ran along the side and slapped their pretty hands. Once we reached the University of Boston, the smell of beer permeated the air. My adrenaline was definitely kicking in with the amount of support at this point and once again, I moved over to the side to get some slaps. It was then that my legs starting to cramp up and I ended up having to refrain from slapping and stopped to stretch out my leg muscles that felt like they could snap. Some of the students yelled to me to not stop and keep going, that I was almost there! I yelled back and said, "I'm gonna pull a damn muscle, so I have to stretch!" Some of them proceeded to help me stretch it out and talked me through it, which was a funny little moment. Scott was out of sight now and I was gearing up for the hills. A guy that was near me asked if this was "Heartbreak Hill" and then another piped up and said, "No, this is the first of four hills. Save your energy." I was glad I heard that, as I was only aware of Heartbreak Hill, a long and strenuous last hill of the race.
• A guy named Luigi shows up and he and I keep bouncing back and forth and I know Luigi is around for two reasons. The smell of B.O. and the fact that he had his name on the front of his Italia shirt and EVERYONE was yelling out, "Yeah, Italia, Yeah, Luigi!!" I was getting a bit annoyed with the presence of Luigi, so I tried to pick it up and move along! Another guy from China breezes by me with his country on his shirt and a little boom-box attached to his waist, playing his national anthem or something. Time to move along from him too.
• Mile 20 had come and even if something really went wrong, I would finish the damn thing if I had to limp, crawl or walk through the finish line. Heartbreak hill was tough and because of that, there was mega support everywhere. People had written encouraging words in chalk, so it was fun to read the messages all the way up to the top. Around mile 22, both legs were doing the usual tightening-up thing, which I've experienced in the two past marathons. I was trying to keep loose, slow up and even pull over to stretch to prevent any awful pulling or tearing. It's incredible to see this happening to so many around you. I just tried not to look at any of them as I didn't want my head to get any crazy ideas and join in on the fun.
• The crowd was the thickest in the last couple miles and all I could do was imagine seeing that finish line. It was around one last corner and I felt like I was moving in slow motion. I hear a crowd of people cheering out my name and I look over and it's my friend's (Mallory, a hs friend) entire family! I got really excited that they actually spotted and recognized me as I came through the finish line. It's been since high school since I've seen them.
• I finished with a time of 3:29:24 (5 secs. slower than my first marathon) and I was so very glad to be done and extremely shocked that I was able to get through, considering all the hurt, aches and pains coming into the race.
• I was hobbling and hurting pretty badly and in fact, offered a wheelchair several times as I navigated through the LONG walk to the family zones to link up with my parents. I was happy to get my clothes, as it was super cold and windy in between the tall buildings and shade. Mallory called and we were making plans to meet up. Scott and his wife, Cassandra had found us and we compared notes on the second half of the race and were glad to see we both made it through.
• A half hour after the race, I was struck with nausea and needed to find a port-a-pot asap! When I finally emerged, I started violently vomiting and my mom had a firm grip around me to keep me standing. I literally felt like I was dying. I felt a stomach muscle pull as everything started to become blurry. The next thing I know, my mom is yelling for help and I get wisped away on a golf cart, projectile vomiting off the side, and shoveled into a wheelchair. Wheeled into the emergency medical tent, picked up and laid down onto a cot and covered with blankets, my teeth were chattering and my body was shaking. The medical staff checkedmy vitals, fed me warm chicken broth and Gatorade. They stretched out my tight legs and assisted me with a couple walks around the tent. I apparently was dehydrated, even though I drank at every mile and then some! It was scary stuff in there! Lots of wounded soldiers down around me and even an ICU area in the corner, with people hooked up to things and curtains up. I was ready to get the hell out of there and move along. My parents were freaking out a bit, but I managed to have my dad get my camera out and document this part of the experience.
• I unfortunately missed Mallory and her family with all the added excitement, so we walked around quite a bit to hail a cab. We drove back up to Manchester, where we were flying out of and this is when I learned my parents hadn't seen any part of the race, as they were being detoured around from all the closed roads and traffic. To say the least, they didn't have a good day and then to top it off with the little drama I provided at the end. My dad lost two credit cards and I seriously thought they were going to kill each other by the end of the trip. After hustling to the airport after contemplating whether or not to leave me and my mother threatening my dad that she'd never speak to him again if something happened to me, my parents flew out, after a delay in their flight and  I stayed put in a hotel to recover.
• Couch sitting, barely moving with a 10-inch turkey hoagie for dinner, I caught up on the phone, uploaded pictures from the weekend, took an ice bath and popped a blood blister the size of another toe.
• I flew out of Manchester Tuesday late morning, wearing the shirt you receive and all the airport security asked how it went and congratulated me. When I boarded the plane, they announced to congratulate and shake the hand of anyone wearing a yellow shirt or a black and green jacket, that they just ran the Boston Marathon. Those sitting around me, did just that. How cool was that! When I got into Chicago for my layover, I saw the lemmings of Boston runners throughout the airport and occasionally someone would ask over my shoulder how did it go and we would exchange notes.
• I got into KC and headed to a massage at 8 pm. The massage felt wonderful but my feet were in bad shape and feeling extra sensitive and the masseuse was overly aggressive with them. I told him that what he was doing was hurting and he backed off a bit, but he said he was trying to break up the calluses. Why?? Well, let's just say a couple days after that, my foot started swelling, a blister appeared, I went to the foot dr., he prescribed me with an antibiotic and cut away some of the skin on my foot.
• I ended up calling the doctor late in the evening for pain medication, as I was in tears after driving my car and pushing down on the pedal. The pain was literally taking my breath away. Vicadin was prescribed and I've been nursing an infected blister the rest of the week. In all my years of athletics (since first grade), I have NEVER experienced a blister like this. I ended up buying some crutches the next morning before heading into work, realizing that walking had gotten nearly impossible. As a result, I've been resting all weekend, something I don't really know how to do. I'm just about ready for this to heal up and pass!
• Are you worn out from reading all of this? Cause I'm worn out from typing. Sorry to strain your eyes, there was just a lot to document. Maybe too much. Oh well…It's time to wrap it up until the next crazy adventure. All the support from my friends and family throughout the experience was amazingly awesome!  Thank You!
P.S. If you don't want to see my gross, blistered feet, don't scroll down too far!! Hey, it's part of the experience, I'm documenting this all the way, baby!