Monthly Archives:
September 2012
Madison Katherine arrived July 22nd and I was honored to photograph this little peanut at her one month mark of life! Megan and Tyler, two selfless, kind, smart, humble, sweet people and now new parents, will give this little girl a beautiful life full of love, support, comfort, guidance and everything else a little girl is made of. You can see the love they have for their new addition and I'm pretty sure Madison will have her finger wrapped around her daddy's finger. Am I right?

Congrats to you guys, she's a sweetie pie! So very happy for you and thankful for the opportunity!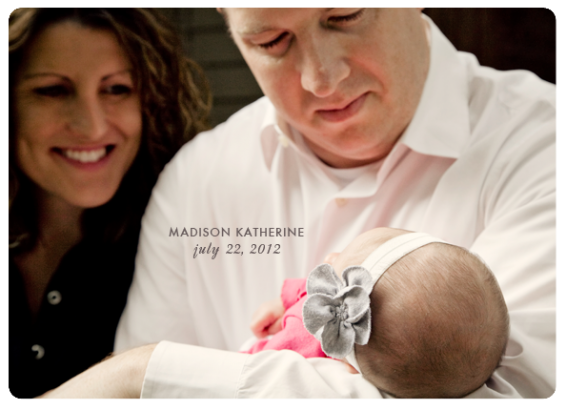 With this being the ONLY home we physically stepped in to look at and after weeding through lots of places online, June 26th was when we got the keys to this 1967 raised ranch in Shawnee, KS. It was previously owned by a 90 year-old couple who had built the home and had lived in for 45 years, who were moving in with their daughter. We learned from neighbors that it was a house full of love, life and happy memories. The couple loved their yard and had quite a garden in their hay day and that was evident with all that was blooming. When my boyfriend, Riley and I first saw the home, we both saw huge potential with the neighborhood it was in and with its solid bones and structure. With his skills and know-how working for a general contractor and with my artistic eye, we knew with a little love, we could whip this place into modern-day shape. Little did I know the skills and know-how that my man processes, which has left me quite impressed and blessed. Within the first 2 hours of owning the place, he/we had all the carpet ripped out, all the borders peeled off and a decent start at unveiling many decades of wallpaper in each room. A few days later, Riley had the wall between the dining room and kitchen torn out and was onto tearing out the ceiling to extend the vault that existed in just the dining room. He's done all the sheet-rocking, mudding, taping, sanding, electrical work, plumbing, tile and grouting, cutting new trim, putting in a new sliding door and exhaust hood, as well as a good amount of all the other little fun stuff in between. I've been busy with most of the wallpaper peeling, priming, sanding, painting, cleaning, floor resurfacing, setting up a space to live within the chaos and other miscellaneous tedious stuff that isn't as rewarding as the "show work." I have learned a great deal through the first few months and have discovered there are tools out there that the common home-fixer-upper doesn't know about that makes things go a lot quicker and smoother. My eyes have been opened and my mind enlightened. With the help of my mom, Riley's family, friends, Nathan, Stuart, Ashleigh and her amazing moving crew, we have gotten further along than we could have done so alone. Thank you family and friends and to all the encouraging words and visitors along the way. This is the beginning of what will be a labor of love that will most likely involve a little blood, what has already proven to be a lot of sweat and yes, probably a few tears. With a 1 year-old German Shepard puppy (aka the project supervisor) and two people with multiple bicycles and various hobbies that also include "stuff," sharing space was slightly tight and yet spread out, going back and forth from an apartment and condo. The dog is very excited to have a backyard she can romp around in and run back and forth along the fence to harass the neighbor dogs. This is the first round of our updates to our new home as we wait to get our Amish-built cabinets and Riley-made concrete counter tops completed. Stay tuned for our second round of updates.